julia colson hall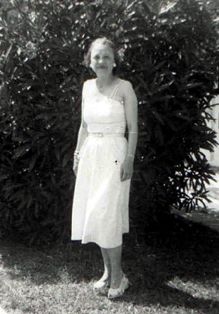 Julia was born July 18, 1900 in Columbus, Georgia.
---
"Paula Williford Colson, Susie May Colson, [and] Julia Colson attended Wesleyan College. Mamma and Sue graduated. Julia's jr. college credits didn't fully apply and she came to NC in 1921 to help Mamma and to take care of Joe, Paula, and me."
Note in Lisa Colson's handwriting on paper attached to this news clip:
"First For Females. Georgia Female College, Macon, Ga., established in 1836 and now known as Wesleyan College, was the first college in the world chartered to grant degrees exclusively to women."
---
On February 14, 1922 when Julia was 21, she married Frank C. Hall, in Asheville, North Carolina, on Valentine's Day. They had one child: William Owen (Bill) Hall.
Julia died in Asheville, NC on 21 Aug 1980, she was 80.
"... We cannot understand why Julia Hall suffered so long. we do not understand why the Lord left her in that condition for so long. But now we offer thanksgiving that her suffering is over. ... Those who knew her are better persons as a result. And the fond memories we have of her will brighten the lonely hours that lie ahead. The memories are of a gentle woman, one who loved very deeply. One who took pride in God's handiwork. She was so exquisite in her appearance at all times..."
Bill Pheagen, minister, 24 Aug 1980, "Memoriam, Mrs. Julia Hall."
---