a. c. reynolds, jr.— alphonzo (al) curry reynolds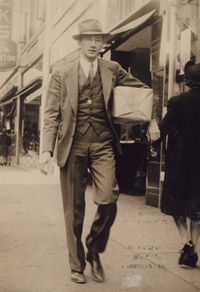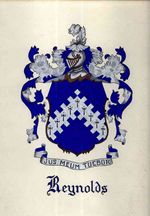 ---
Born May 24, 1914 in Cullowhee, North Carolina, Al graduated from Duke University, where he won the Wiley Gray medal and was senior class speaker.
After he graduated from Duke he taught one year at Flat Creek High school, then went to Barnardsville High school as principal for two years and from there to be the principal of West Buncombe High school, where he remained until he joined the staff of the Farmers' Federation in August, 1942.
He also served as one of the youngest-ever members of the North Carolina House of Representatives. He resigned from the Farmers Federation, gave up his legislative immunity from the draft, and volunteered for the Army in World War II.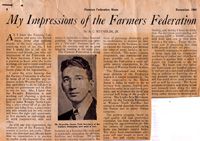 On July 13, 1938 when Al was 24, he had married Lisa Colson, in Asheville, North Carolina They had the following children:
i. Alan Carlton
ii. Thomas Colson (Tom)
---
Al died March 20, 1945 while serving in the U. S. Army; he was 30. He was buried in Green Hills Cemetery, Asheville, North Carolina.
The Asheville Citizen, March 21, 1945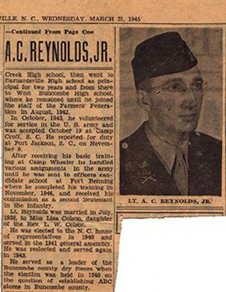 A. C. REYNOLDS, JR. DIES IN ACCIDENT AT FORT MEADE
Lieutenant Hit in Head
By Stray Bullet While
On Rifle Range
Second Lt. A. C. Reynolds, Jr., 30, former member of the state house of representatives from Buncombe County, was accidentally shot and died in less than an hour at Fort George Meade, Md., late yesterday, according to information received by Mrs. Reynolds at their home, 132 Shelburne Road, last night.
The accident occurred when a bullet went astray and struck him on the head while he was on the rifle range, members of the family were told.
Volunteered for service
Lt. Reynolds had been on duty at Fort Mead since receiving his commission as a lieutenant in the infantry last October at Fort Benning near Columbus, Ga. He had volunteered for service in the army, giving up his legislative immunity from the draft and enlisting in the army in October, 1943 as a private. At that time he was promotional director of the Farmers' federation in the 14 Western North Carolina counties.
He is survived by the widow, and two small children, Alan 6, and Tom 2; his parents, Mr. and Mrs. A. C. Reynolds, Sr., of Sylva; five sisters, Mrs. Mary R. Cowan, of Sylva, Mrs. W.W. Wiebe, of Asheville, Mrs. O. G. Tandy, of Fletcher, Mrs. H. Grey Parker, of Virginia Beach, and Mrs. N. O. Phillips, of Asheville, and one brother, Lt. Tom Reynolds of the U. S. navy.
Native of Cullowhee
Lt. Reynolds was born May 14, 1914, at Cullowhee, the son of Mr. and Mrs. A. C. Reynolds, Sr. He was a graduate of Biltmore High school and Biltmore college and received his degree at Duke university in 1935.
In October, 1943, he volunteered for service in the U.S. army and was accepted October 19 at Camp Croft, S. C. He reported for duty at Fort Jackson, S. C., on November 9.
After receiving his basic training at Camp Wheeler he handled various assignments in the army until he was sent to officers candidate school at Fort Benning where he completed his training in November, 1944, and received his commission as a second lieutenant in the infantry.
Lt. Reynolds was married in July, 1938, to Miss Lisa Colson, daughter of the Rev. L. W. Colson.
He was elected to the N. C. house of representatives in 1940 and served in the general assembly. He was reelected and served again in 1943.
He served as a leader of the Buncombe county dry forces when the election was held in 1940 on the question of establishing ABC stores in Buncombe county.
---